RISE INTERNATIONAL – INFO

: REGISTRATION
Getting set up is easy and it's free to apply!! After you've read through our process here and you're ready to go, you'll just fill out the New Member Submission Form [Click 'New Applicants' button at bottom of this page] with your profile photo/info and design files. Once your first design is approved and the fee is paid (via a private link we send you), we'll build your store for you AND send you a free shirt of your first submission.
The cost of your first submission will include a one-time registration fee ($40). This covers us for the set-up work involved in building your official profile page/store, hosted on our online community marketplace complete with:
A thumbnail and profile picture of your choosing
A brief description of your brand/channel (you provide text, should be no longer than 4 lines.)
Up to 3 links to whichever website, social media, streaming channels, etc. you'd prefer.
All your unique RISE INTL products (each with their own respective product pages), available in one place for your customers to browse and purchase.
A prominent slot in our INTL. directory
Your own URL at: RISEAttireUSA.com/INTL/YourNameHere
Your products being listed among RISE Attire's full catalog of apparel, which gets 1000s of unique visitors a month from all over the world, bringing all kinds of fresh eyes to your message and brand.
*If you're already registered and selling, then the process of submitting new designs/design ideas begins with Step 2 and ends with our New Design Submission Form [button labeled 'New Submissions' at the bottom of this page and in our 'Members Portal'].
: LEARN THE PROCESS
To choose the right product/package for your design, it's important to understand the difference between Sublimation Printing (Unisex Premium Tees) and Direct-To-Garment (DTG). Not every design is suited for sublimation printing and likewise, not every graphic will work with Direct-to-Garment.
We'll help you make the final determination during our approval process. But it's always best to go in knowing exactly what you want, by understanding exactly what you're working with. Here's what you need to know…
THERE ARE 2 KINDS OF PRINTING METHODS OFFERED…


Sublimation printing is the process of printing on specialized paper, and transferring those prints to fabric using heat and pressure to convert and bond dye inks to fabric fibers.
Our Premium Tee + Hoodie feature beautiful, full color, edge-to-edge graphics that are sublimation printed on our cotton-soft, proprietary, poly-cotton blend. It's then cut & sewn by hand for a seamless finished product, made to order entirely in the USA 🇺🇸. Our prints are unparalleled in quality, with detail and rich tones you wouldn't think possible on fabric… and they never fade, decolorize, or wear! For our INTL stores, we're now offering all premium products in both Mens and Unisex styles, which will accommodate Men and Women of almost every size/shape. Graphics can go anywhere on the garment you want, set against any color or patterned background you can dream up!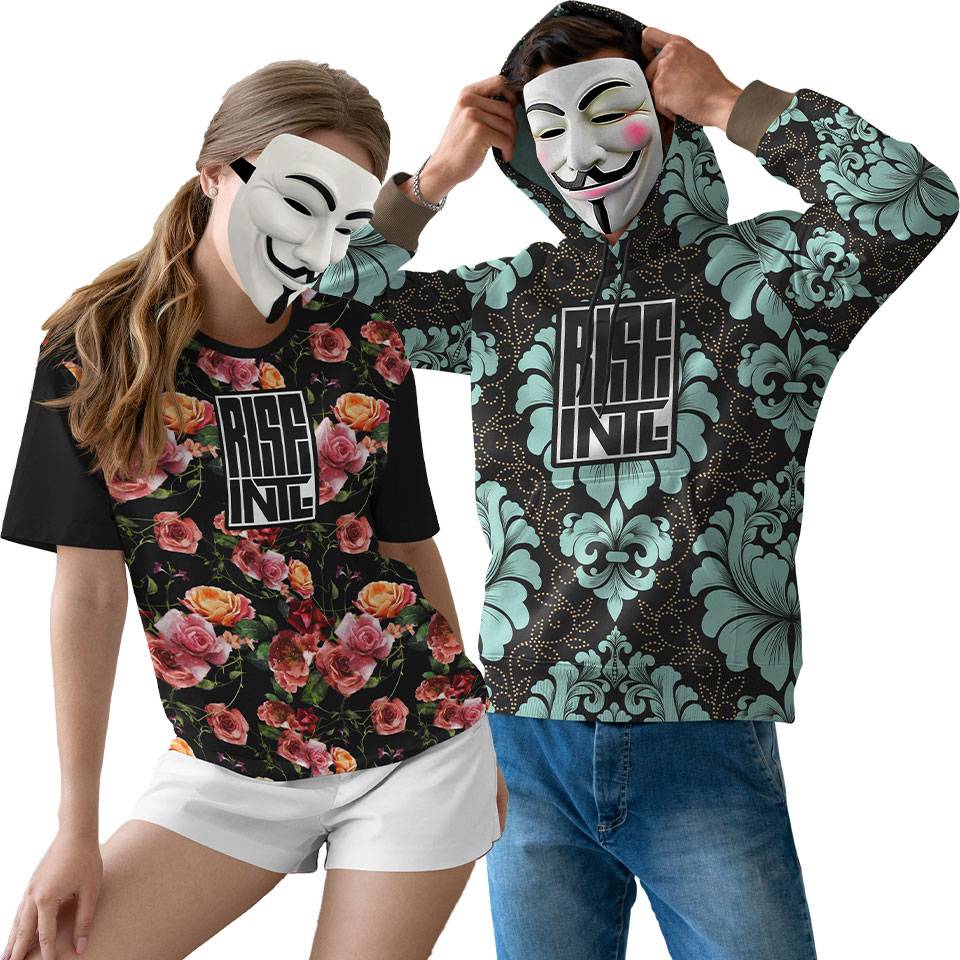 The Sublimation Process used for our Premium Products works best with hi-resolution, photo-quality designs and graphics. For the Tees, you've basically got 4 main panels (front, back, left sleeve, right sleeve) and a collar to work with as your canvas. The hoodie has 8 (those same 4, plus 2 outer and 2 inner panels for the hood) with 2 additional panels for the sleeve's cuffs completing the whole. Because these products are so custom, the background and design elements must be laid out by you, the member, using the guides and boundaries provided in the template(s) (download below), to qualify as print ready. The PSDs (Photoshop Documents) includes a help layer with a step-by-step guide to properly preparing/exporting your design for us to template. For those who don't have Photoshop, we made a version of the template for the FREE design software GIMP, all the same directions apply. If you have a design but would prefer that we lay it out for you, that work is covered by an extra $50 prep fee if you so choose. We actually recommend this, but it is not required.
PHOTOSHOP TEMPLATES:
GIMP TEMPLATE (PREMIUM TEE ONLY CURRENTLY):
Here's an example of what the layout template looks like when you choose to do it yourself (below), with an example of how it will translate on mockups. The colors indicate which of the respective panels each corresponds to…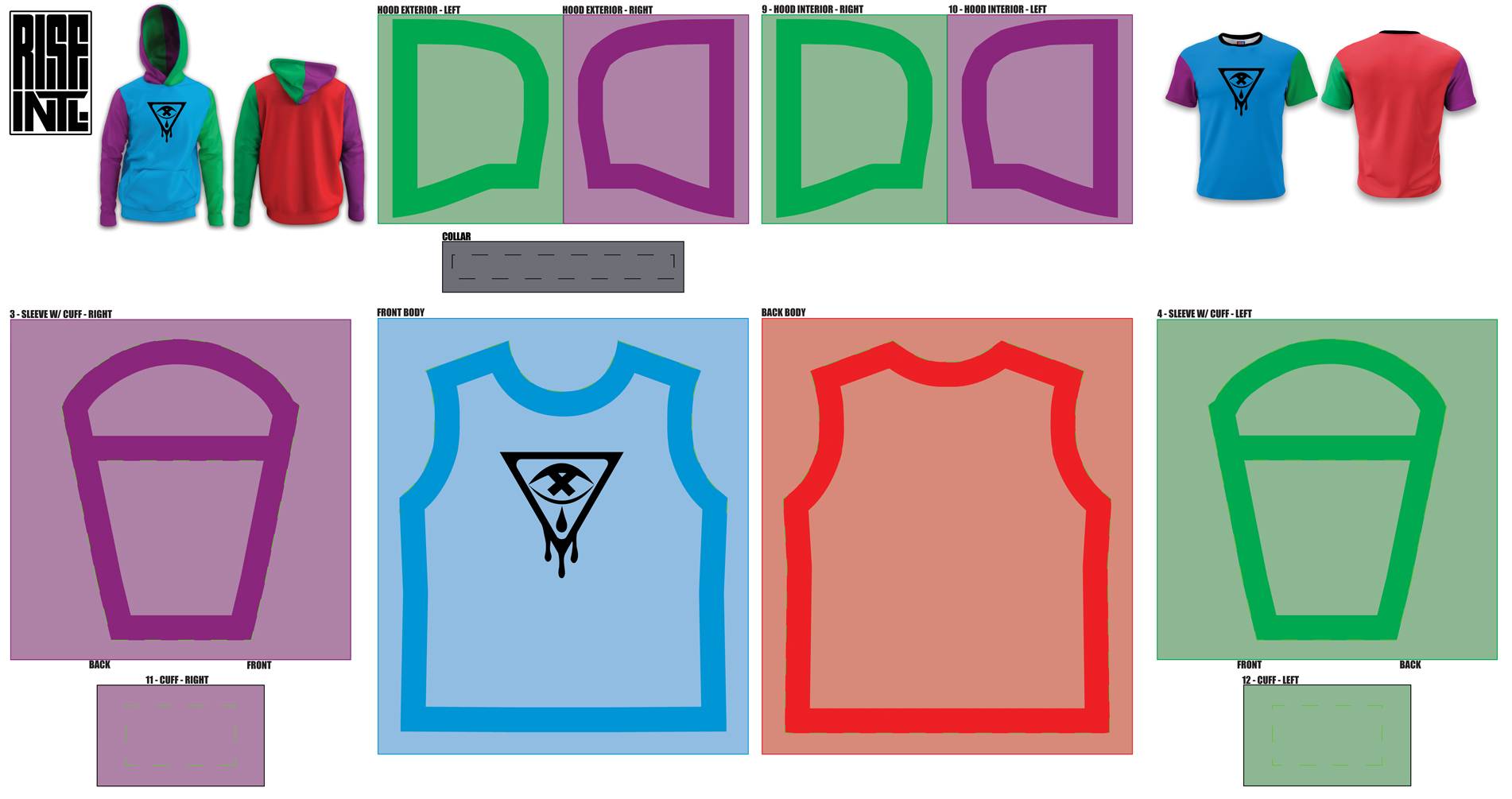 We'll bring your designs to life utilizing the latest generation of DTG (direct-to-garment) technology. This is the eco-friendly process of printing directly onto fabric using specialized, industrial inkjet printers. The finished product is extremely vibrant and soft with a lifetime print that will never fade or crack, printed right here is the USA 🇺🇸. The tees are 100% cotton and the hoodies are 80%, both are unisex and available in black, white, and grey. The tees now come in Navy Blue, Army Green, and Red as well! We offer printing on 1 side (front or back) or on both sides (front + back), both with a printable area of 10.5″w x 12.5″h. The template is the same for each and our form makes all your options very clear and easy to decide on so no worries! For those who don't have Photoshop, we made a version of the template for the FREE design software GIMP, the export directions are slightly different, but can be found clearly in the directions layer.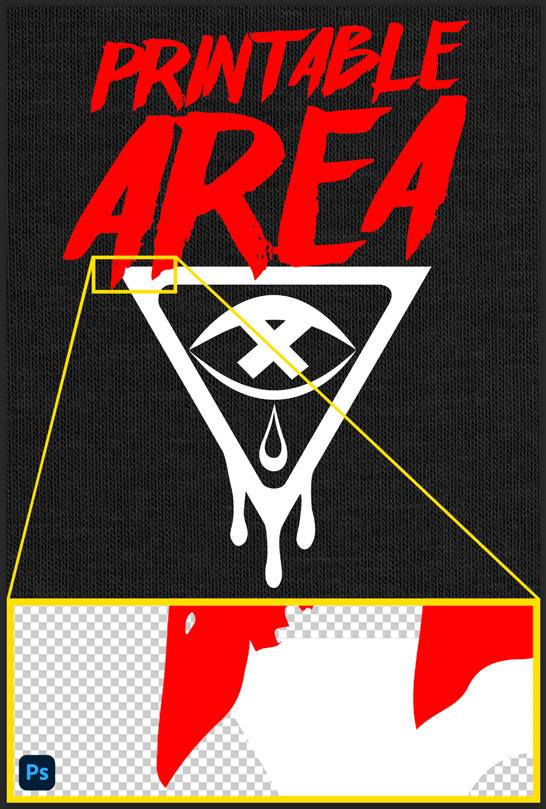 Our Direct-to-garment (DTG) products work best for hi-resolution designs with solid shapes, vector-based graphics and/or text, professional logos, and other graphics with clearly defined edges and boundaries. DTG will not work for graphics that have drop shadows, glows, blurry edges, smoke, mist, magic etc. NOTE: IRL, this example would look as shown on the top part of the image here (left), with the edges nice and crisp when magnified in Ps, as seen on the bottom (left). Remember, the sharper the edges, the better the result!
PHOTOSHOP TEMPLATE:
GIMP TEMPLATE: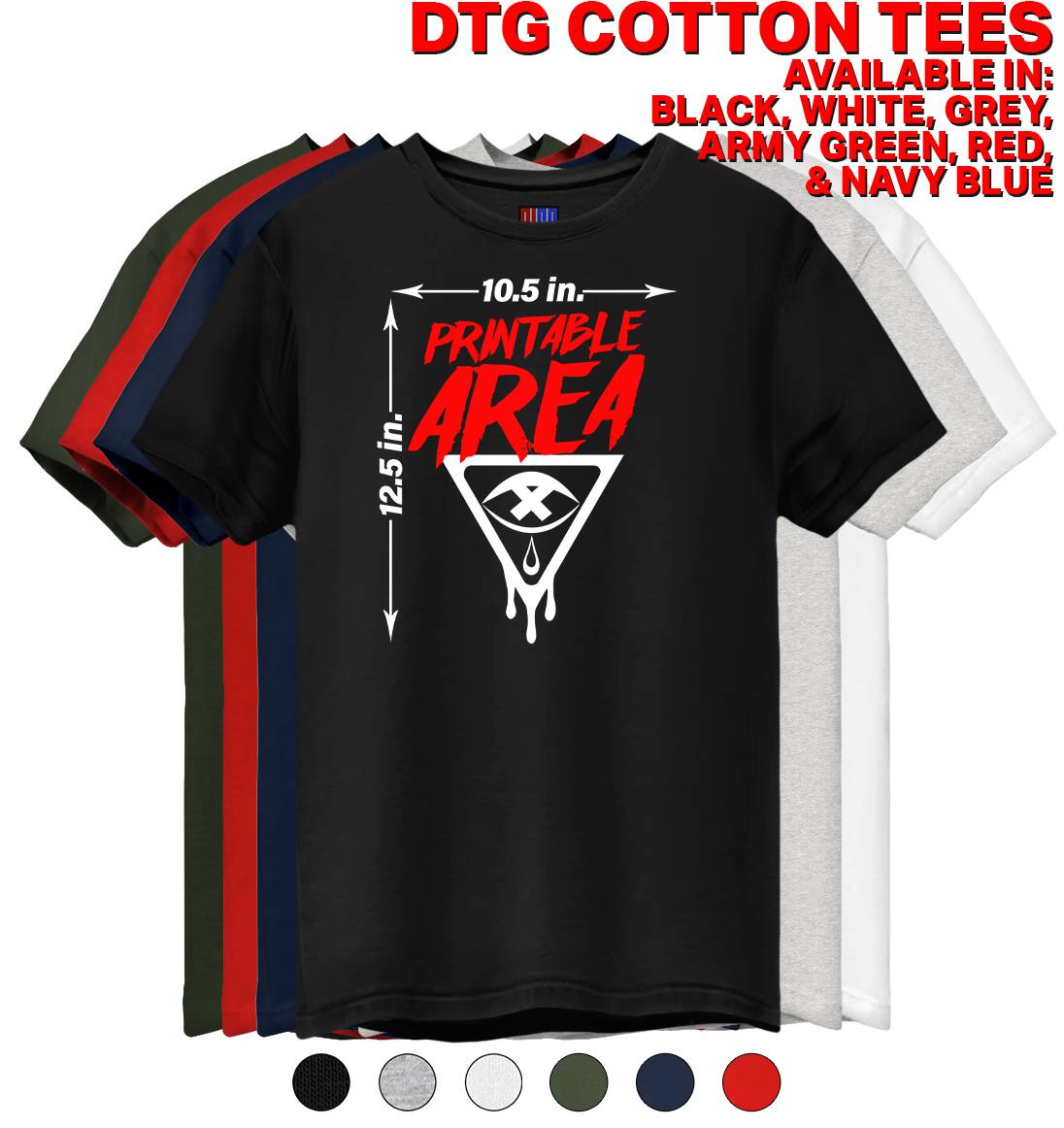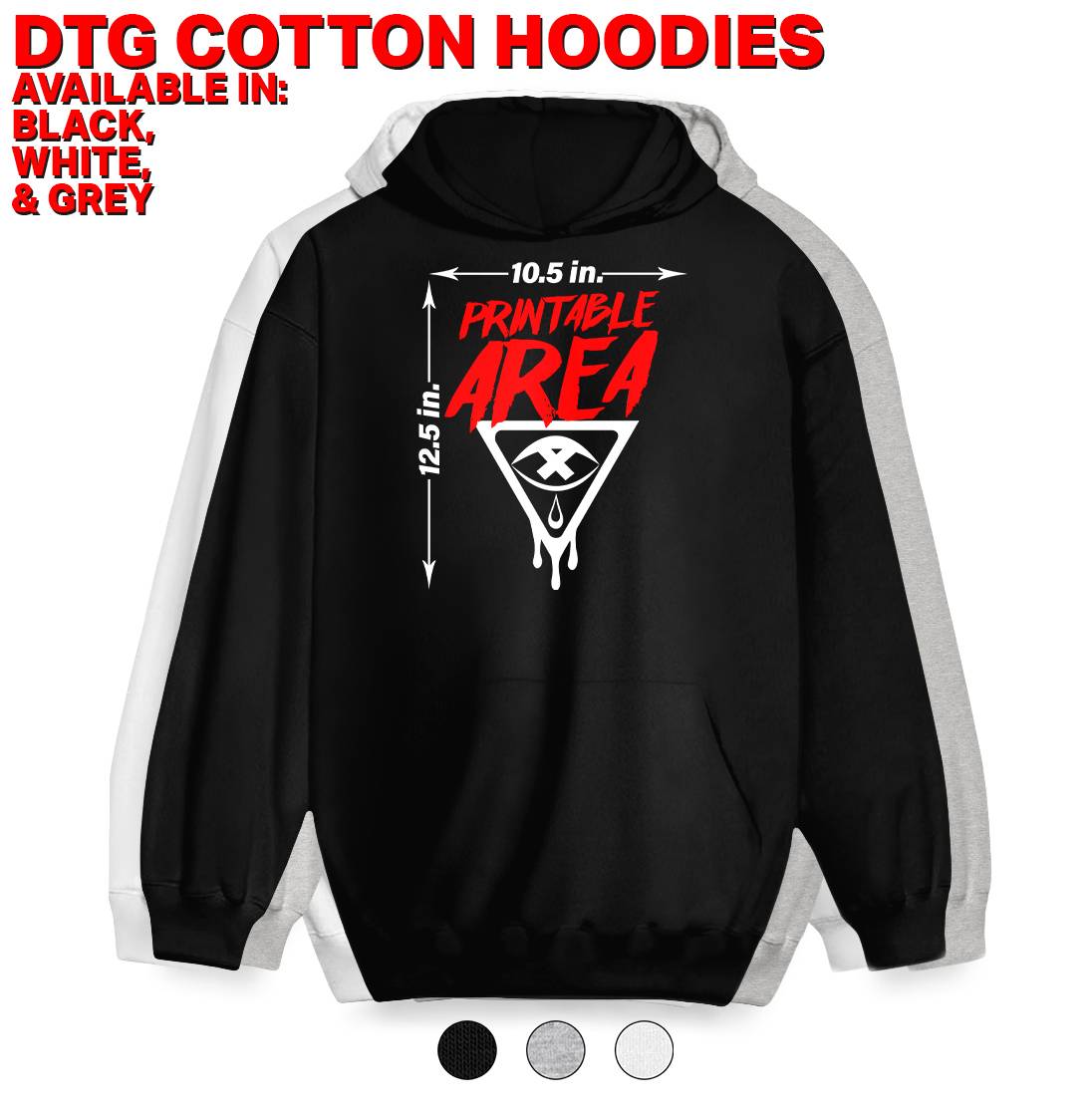 : PREPARE YOUR DESIGN
GOT YOUR OWN DESIGN?
Here's some important specs to consider before submitting. Your artwork needs to meet the following guidelines to be produced as is:
For Sublimation (Premium Tees + Hoodies), the file(s) you submit will be in JPG format. Because of the complex nature of the product's processes, we've prepared PSD templates to use that will easily help you visualize the layout, prep the design to its exact dimensions, and save your file in its required format (150dpi CMYK JPG). You can download them here (right) and follow the steps in the layer marked DIRECTIONS when you're ready to export. For those who don't have Photoshop, we made a version of the template for the

FREE design software GIMP

, all the same directions apply. (Note: The Hoodie + Tee combo template is currently only in Ps format. A GIMP version will be available soon). On either version, any layers containing your design should live inside the layer group labeled "Place Artwork Here", so they remain underneath the "Boundaries" layer. You can set the background color or gradient layer to whatever you want. We print in CMYK color profile, so we recommend doing all initial design work in CMYK, as opposed to RGB, to ensure the colors in the finished product meet your expectations.
PHOTOSHOP TEMPLATE:
GIMP TEMPLATE:
For DTG (tees and hoodies), your design should be in PNG format with the background transparency enabled. Our Direct-to-garment printing process works best with hi-resolution designs that have solid shapes, vector-based graphics and/or text, professional logos, etc. with clearly defined edges and boundaries. This does not work for graphics that have drop shadows, glows, blurry or low-res edges, smoke, mist, magic etc. For those who have Photoshop, we've prepared a PSD template that will help you visualize the layout exactly, and save your file in its ideal format (150dpi RGB PNG). You can download it here (left) and follow the directions in the layer marked DIRECTIONS. Follow the same instructions/process for your back panel art (if it's double-sided) and submit both files with your submission form. For those who don't have Photoshop, we also made a version of the template for the

FREE design software GIMP

. The export process is slightly different, but it's clearly explained in the layer marked 'directions'. Again, the same specs/process applies to both front and back side panels.
Your design should not depict any REAL messages of hate (ie: un-ironic swastikas, kill the joos, n-words, etc… that means you, Gab! 😂 jk, we love you) or blatant calls for violence against any person, group of people, or institutions… NOTE: the key word there is blatant, if you're creative about it and it's not in bad taste that's a different story (see: RISE's 'Blindfolds & Cigarettes' Design Series). RISE INTL. reserves the right to make the final call on matters like this, but generally speaking, we're very hands-off and accepting of 95% of ideas.
NOTE: It's important you prepare what you send us to meet these guidelines as closely as possible, to make our job as painless as possible. If the design isn't print ready, an additional $50 prep fee may be required for us to get it there. Don't worry tho, if it's not ready we'll let you know what it needs, and we won't proceed until we have your express consent. Please, just try not to send us low-res potato photos as your design. We have important standards to meet as a brand and we'll do all we can in cooperation with you to ensure your products are up to them, and that your customers are always beyond satisfied.
GOT AN IDEA, BUT NEED US TO DESIGN IT?
No problem! We offer a CUSTOM DESIGN 'ADD-ON' for a one-time flat fee of $200. This gets you…
A custom design based on your idea, example images, input etc.
A proof of your completed design before production
1 round of revisions, if changes are needed

NOTE: If extensive or major changes to your design are requested, an additional design fee may be required to cover design work beyond the 1st round.
**We will assess every request for our design service but reserve the right to turn down any idea based on our level of availability and the complexity of the job. We're a small team running our own brand as well so we hope you understand. Don't hesitate to inquire, tho! We're always down to help out frens so if we can't do something ourselves, we can always recommend another service that can.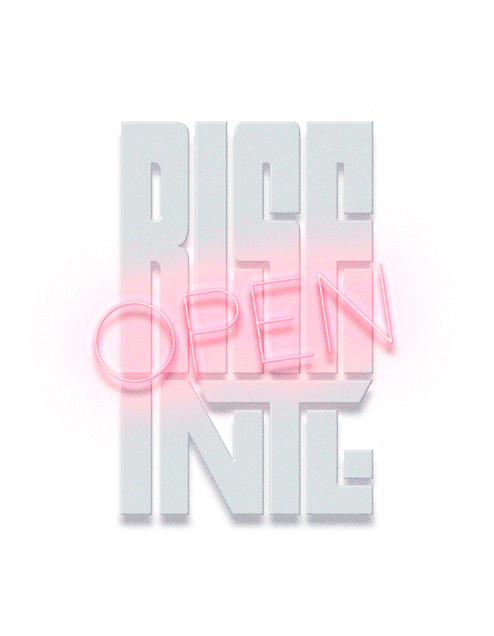 : PICK YOUR PACKAGE
Now that you've learned our process, and prepared your design, choosing the right product/package should be easy! Your 6 options are listed below. The great part about RISE INTL. is that once we've set up your store/profile and your design's been submitted & approved, we handle all of the rest! There's no ongoing fees or work required to maintain your store, just promote and collect your checks as they sell. Our services rendered in all 6 Processing Packages include…
Processing your design:

creating your templates for manufacturing

creating your unique product page(s) and adding them to your profile's store, each with a unique description written by you, if you choose
creating high quality custom mockups (product images) for your product page(s) **we also send them to you in JPG and PNG format to use for your own promotional purposes, if you choose

Manufacturing your products on a made-to-order basis, no need to buy-in-bulk upfront or stock inventory (please allow 1-10 business days to produce and ship)
Shipping your products to customers
Handling all returns and exchanges at no additional charge
Customer Service
NEW A custom-made promotional image showing off your new INTL store and/or release to share however + wherever you want!
A sales report (in spreadsheet or PDF form) for your brand whenever you request it, for any time period you need (please allow us up to 2 business days to fulfill request). You can make your request at any time through the Member Portal, linked at the bottom of the INTL homepage
Sending you your share of the profits, along with a sales report (in spreadsheet or PDF form) on a monthly basis, within the first 10 days of the new month. We typically use PayPal and CashApp to send payments, but we're flexible as long as there's a method we can work with.
Never getting cancelled, censored, discriminated against, or screwed. We're here to enable you and help build up the evil free, parallel economy!
PROCESSING PACKAGES (Per Design Submission):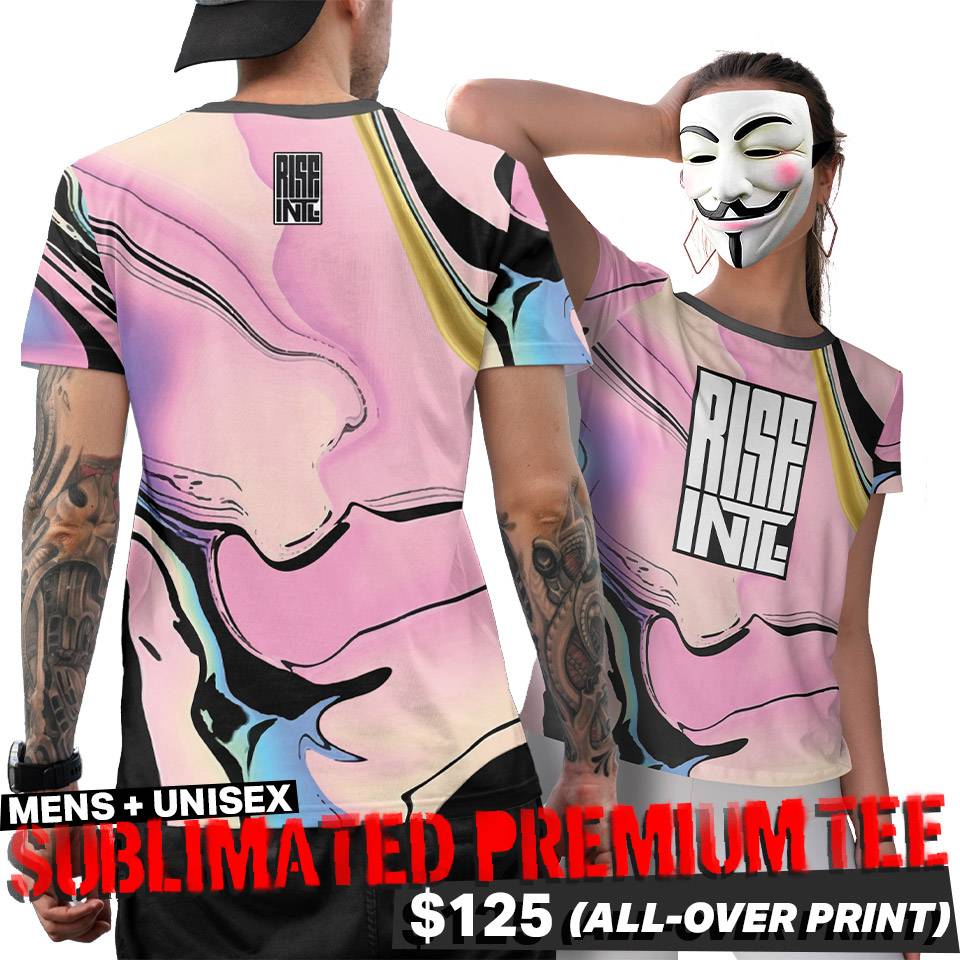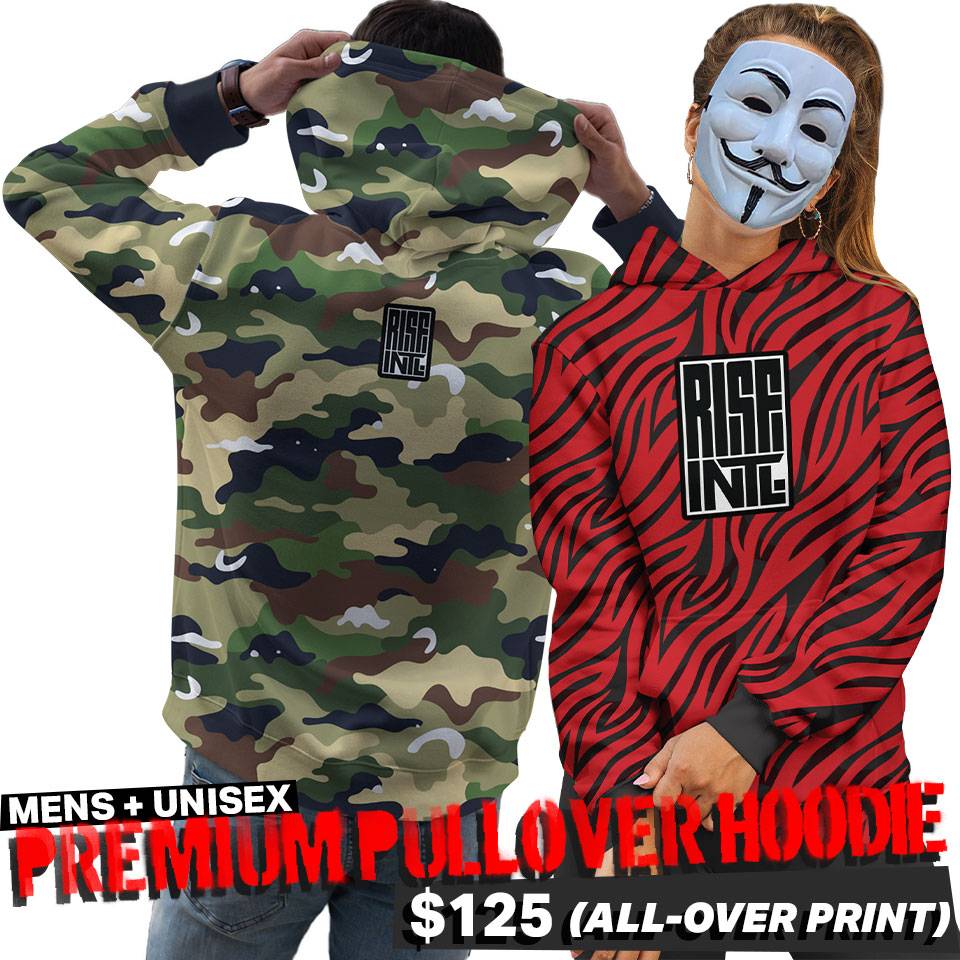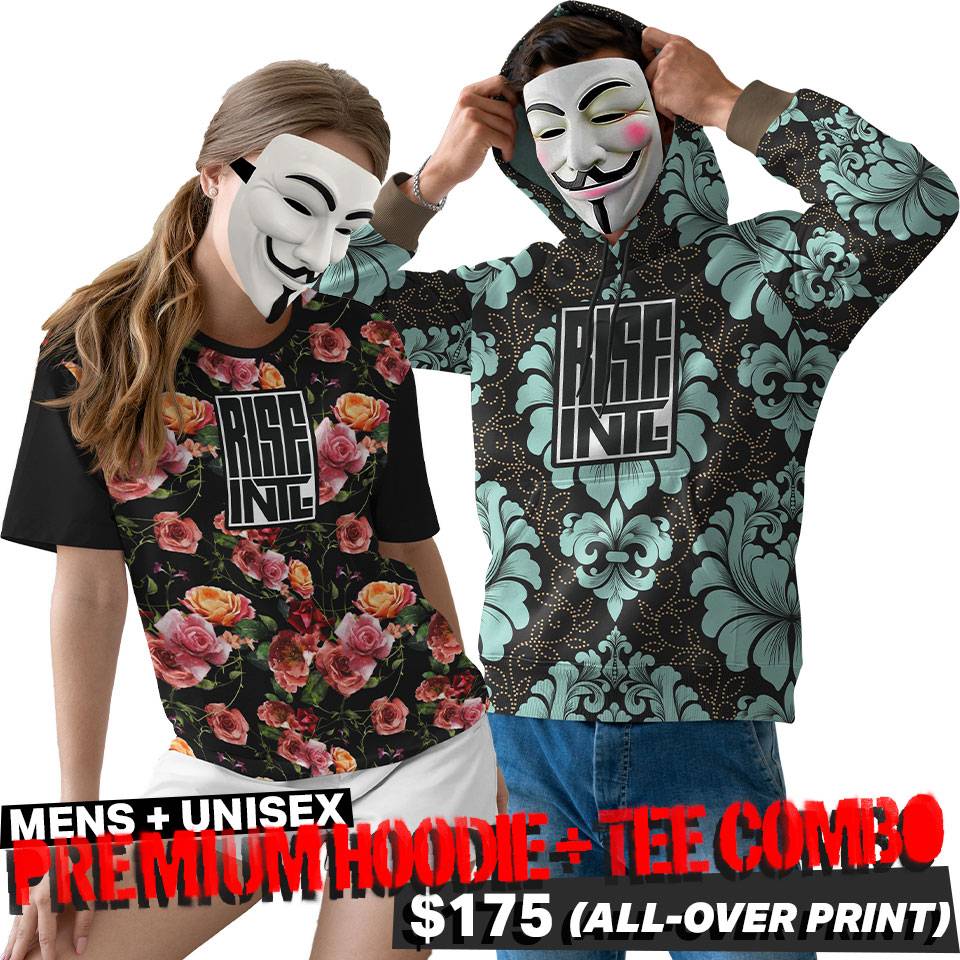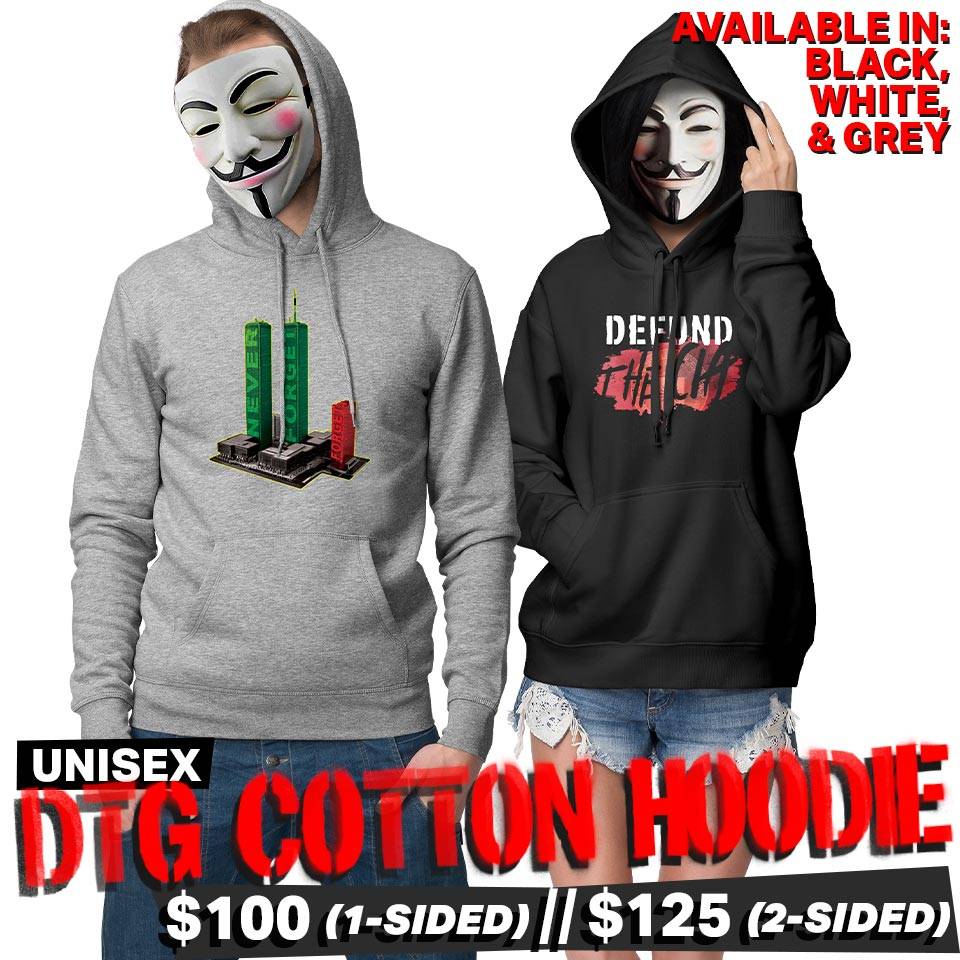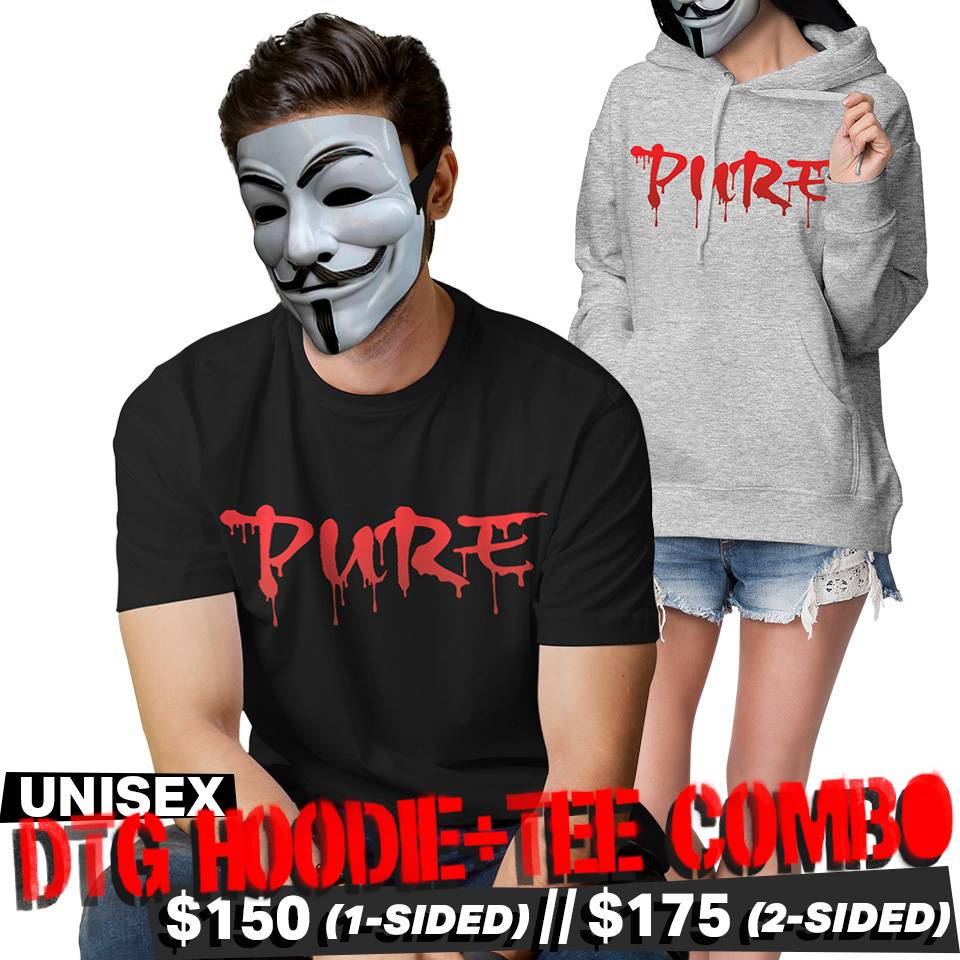 : APPLY
Once you know what you need and your ducks are in a row, it's time to rock! Below you'll find links for 2 applications: one for new applicants and one for new submissions from established members. All you've got to do is fill out the required information, upload your files, and await our response. It's free to apply! You only pay once your submission is approved. Either way, we typically respond within the first 48 hours and look forward to speaking with you. Thank you for your time and energy in this culture war. Let's build!
GOT QUESTIONS? EMAIL US DIRECTLY AT INTL@RISEATTIREUSA.COM
---
Back to Home